Junior High track practice starts tomorrow. Practice times will be from 4-5 until the weather clears up and we can go outside. Practice will extend to 5:20 once the weather is nicer!
Prom is on April 1st at the Old Gym. See flyer for further details.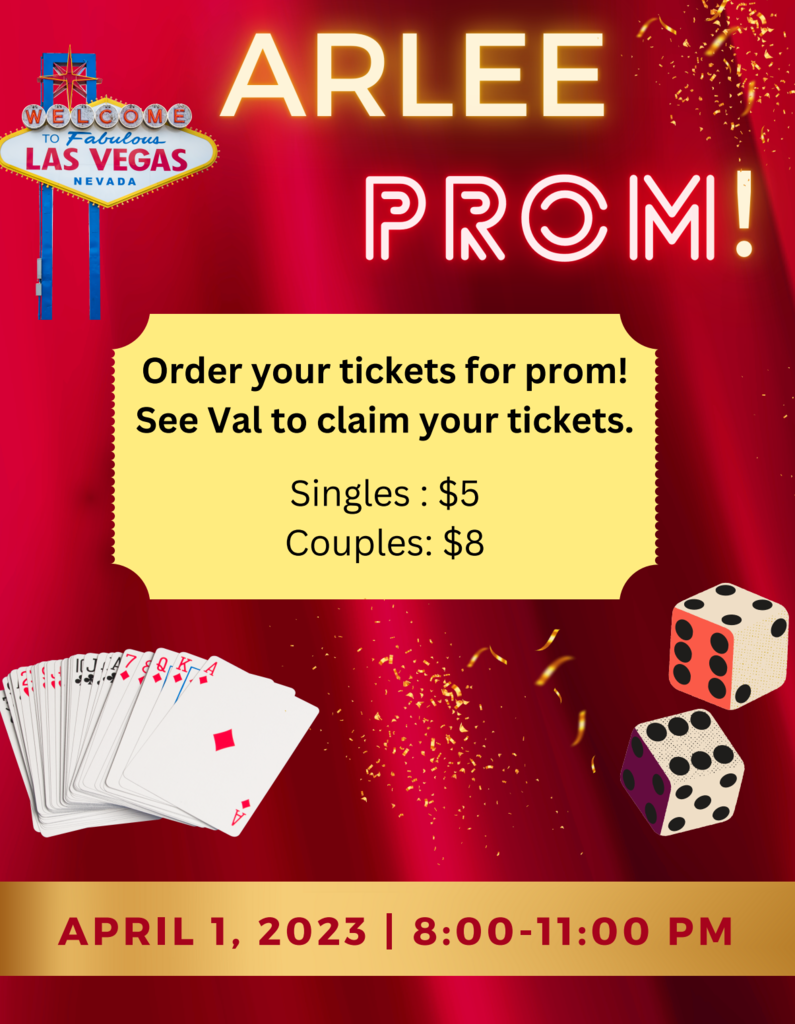 Congratulations to Ben Harlow Old-Person on being an All-State selection and Dallas Swab for a 2nd Team All-Conference selection for our 6B conference. We are proud of you! Go Arlee Warriors!
Hello to those families that have students going on the upcoming ski trip to Lookout Pass on 3/16/23. All paperwork and fees must be in by the end of the day tomorrow, March 9th, 2023. See the image for pricing. Sack lunches will be provided but students are encouraged to bring money for additional food and drinks.
SKI Trip 3/16/23 updates.... Those planning on attending the Ski Trip on 3/16/2023, please make sure you have filled out a permission slip and be paid by the end of the week. Prices are in the daily announcements. If paying with a check, please make them out to Arlee Schools. In terms of food, we will provide sack lunches to all that are going. The BUS will be leaving from the front of the High School at 7:30am MST. We will tentatively be back at the school for pick up at 7:30pm MST. Lastly, you must be eligible to attend. Therefore, you can not be required to attend GO Day and be able to go skiing. Get those grades up!

High School Ski Trip to Lookout is scheduled for Thursday, March 16th. Students must be academically eligible to attend. That day is also a GO Day at the Junior High and High School. If your student is not required to attend school and does not want to go on the ski trip, they can stay home just like a normal GO Day. They must attend GO Day if they have any D's or F's. Again, eligibility is required to go to Lookout for skiing. All high school students were sent an email with the ability to sign up for the day. Students MUST be signed up by the end of the week, Thursday, March 2nd. Prices are in the registration sent to students. Further information will be sent to ONLY those families that have children planning to attend. If you have any additional questions, please reach out to Mr. Beckham at ext. 2300.
Arlee Schools will be on a late start tomorrow. (2/22/23) School will begin at 9:50 am with busses running 2 hours later than normal.
Updated Divisional Brackets.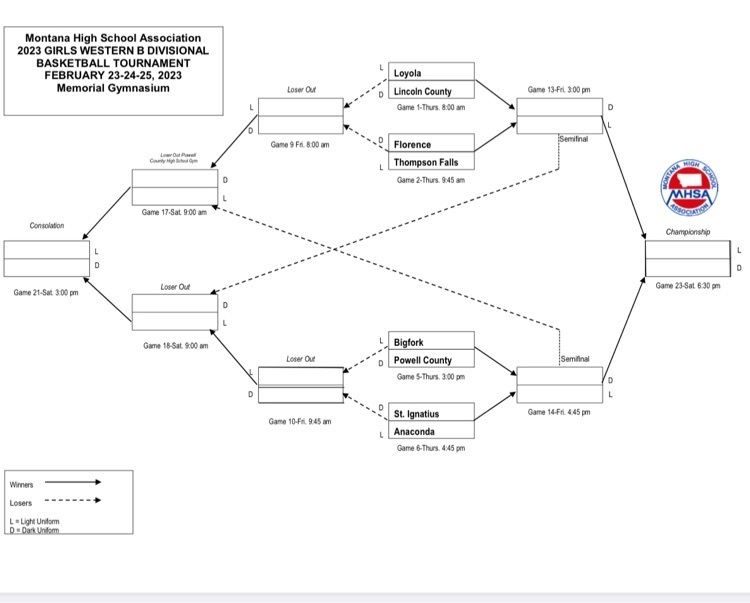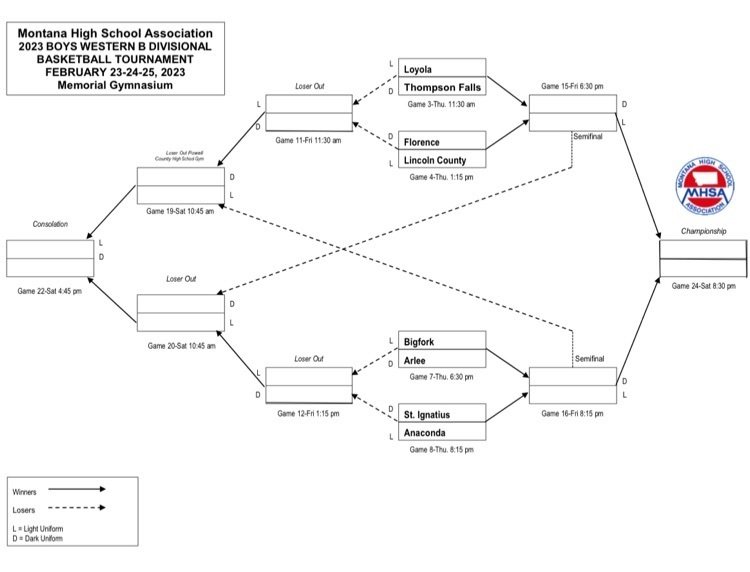 MCT is coming to Arlee Schools. Over the river and through the woods to Grandmother's house she goes. In this epic tale, Red Riding Hood and her pals are urged to stay true to their path. With the help from her family and a loyal young Locksmith, Red finds her Grandma. Along the way, the crew learns that, "life is no picnic when you stray from the trail!" When: March 17th @ 6pm Where: HS gym @ Arlee Schools Cost: $5.00 for Adults, $3.00 for Students, $15.00 for a family (Tickets will be available at the door) Everyone Welcome!
The Warriors lost a close one this afternoon, putting them as the #4 seed in the 6B district. We will play the 7B #1 seed for our first Divisional game on Thursday in Anaconda. Tip off is 630pm.
The Warriors lost to Loyola tonight and will take on Anaconda tomorrow at 12:45 in the District consolation game. The game is in Anaconda and we hope to see you there.
Congrats to the boys' basketball team on an exciting win last night in overtime! They will travel to Missoula Loyola on Friday at 6 PM to play the first game in the District Tourney. Win or lose they will play in Anaconda on Saturday. If they lose they will play at 12:45 PM and if they win, the game will be at 4:15 PM. Booster Club will cover tickets for students to the Loyola game. Good luck Warriors!!!
Please join us tonight for the boy's basketball play-in game against Deer Lodge. The tip-off is at 6pm. This is a District game, so we will be charging for all, family passes will not be valid. The Booster Club has offered to pay for all students to get into the game. Adult tickets are $6 and students are $4.
The girls basketball team will travel to Deer Lodge tonight for a play-in game to see who moves on to Districts. The game is at 6pm.
We hope you join us this evening for Senior Night against Charlo! JV girls start us off at 3pm, followed by JV boys. We will honor our seniors (girls and boys) before the V girls game at 6pm. V boys will follow. See you tonight!

The Close Up students will be holding their annual silent auction during the Senior Night basketball games this Saturday. Games will be starting at 3:00pm. Please come support our students.
We are running ahead of schedule for tonight's games vs Mission. Please try to get here early for the remaining games. Go Warriors and Scarlets!!!
Valentine Cookie Grams are still available. Get yours now while supplies last. Sale ends this Thursday, February 9th.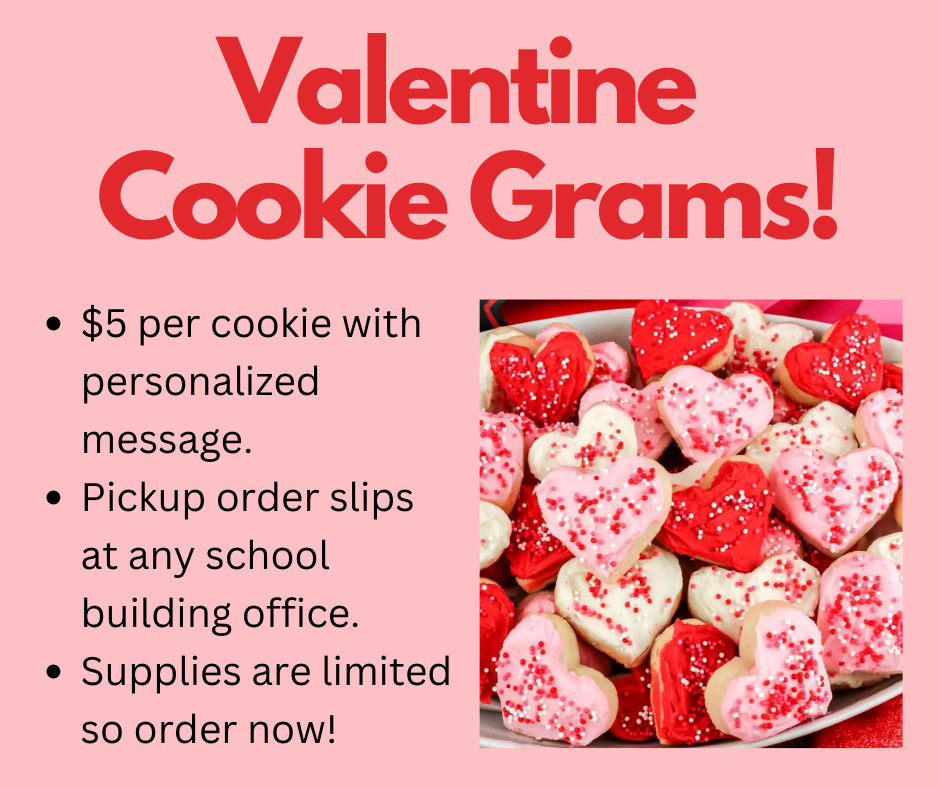 Too tired to cook when you get home. Do you want a hot meal and some great entertainment while supporting amazing kids? Come on down to the Arlee High School gym tomorrow night, Tuesday, and enjoy a wonderful pork and rice bowl while watching basketball featuring Arlee and Mission high school students. The game schedule is 3:00JV Boys/4:30JV Girls/6:00V Boys and 7:30V Girls. See you there.