Due to Covid issues, Missoula Loyola is going to need to reschedule our girls varsity basketball game for tomorrow night, Friday, Jan. 21st. We will host the boys with a JV game at 4:30 and the varsity boys game at 6:00.
Please remember that Thursday, January 20th is a "GO Day" at both the Junior High and High School. If your student was in attendance today, then they received their report card with their grades. Any student with a D or F is required to attend school this Thursday. All others are welcome to attend. If you have any questions, please see the "GO Day" information found in the news portion of our website or call Mr. Beckham.

We were just notified that Deer Lodge will not be coming for tonight's games due to bad weather and roads. We will let you know when the games have been rescheduled.

A reminder that tonight's order of games is JVB@ 3:00, JVG@4:30, VB@6:00 and VG@7:30. Also we will have pulled pork sandwiches available in concessions this evening.

Plains has cancelled the high school basketball games for this Saturday. We will try and reschedule the games for a later date.
Don't forget the High School will have an altered schedule on Wednesday and Thursday for finals. Please see the image for times. As a reminder, from 2:45-4:05 you can make up work or tests in your classes. If a student has completed their final, they may be checked out by a parent or guardian via text, email, or phone call to Val at the office PRIOR to the student leaving the school. Busses will run at their normal times. If you have any questions, please reach out.

Just a quick reminder, today is an early release day. Busses will depart from school shortly after 2pm.

The district will be hosting Tribal Health for another vaccination clinic this Friday, January 7th from 10:00 a.m. to 2:00 p.m. on the high school stage. Covid vaccinations and boosters will be available for ages 5 and up.

Arlee School District – Our students were asked to design ornaments based on what makes Montana beautiful. They used a variety of mediums and students K-12 participated in creating their unique designs. Mountains, wildlife, and indigenous cultures were main themes seen throughout their artwork. This ornament appears on the National Christmas tree in Washington D.C.
Arlee School District has two (2) positions open for a three (3) year term on the Board of Trustees in May 2022. If you live within the ASD boundaries and would like to serve the community in this important position, please contact Lonnie Morin at the Administration Building on campus or by calling 406-726-3216 ext. 5, to obtain a Declaration of Intent and Oath of Candidacy. This document can also be found on the Arlee School District website at
www.arleeschools.org
under Menu > Departments > School Board > Elections. The Candidacy document can be filed at the Arlee Administration Office between Thursday, December 9, 2021 and Thursday, March 24, 2022, between the hours of 8:00 a.m. and 4:00 p.m., Monday through Thursday.
Don't forget, Thursday, December 9th will be our first Golden Opportunity Day (GO Day) This is ONLY taking place for High School students. Please see the following image for further details.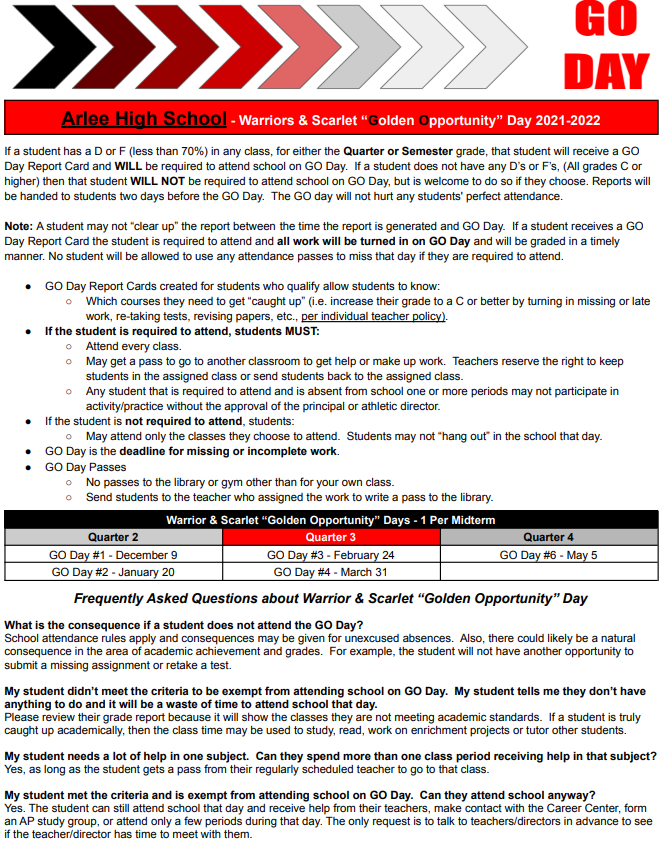 The Arlee School District continues to work together with our CSKT Tribal Health Department as we navigate through this pandemic. The school will be hosting the health department for a vaccination clinic on Friday, December 10th on the high school stage from 1:30 to 4:30 pm. Tribal Health is offering: Pfizer vaccinations for 5-18 years with a parent. Pfizer Boosters for 18 years and over Moderna Boosters for 18 years and over.

Arlee Child Find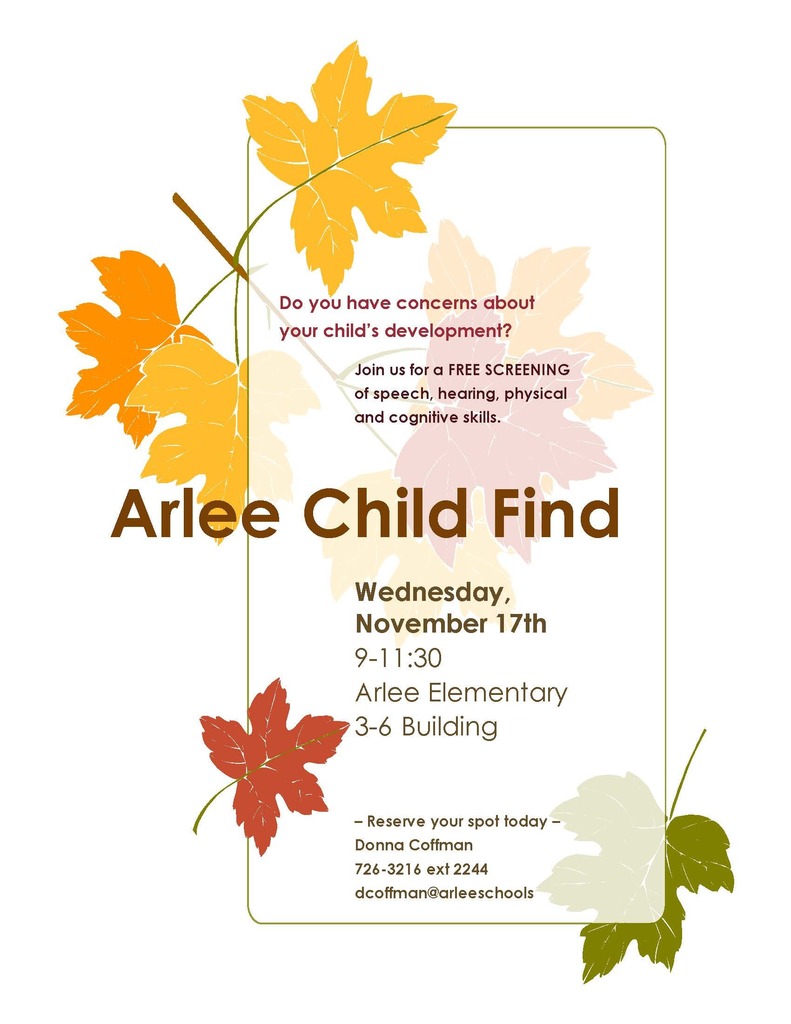 Arlee Schools would like to notify our parents and community that next Tuesday, November 23rd there will be a change in the calendar with it now being an early release. The students will be released at 1:00 pm. The busses will run at that time. Also a reminder that we do not have school on Wednesday. We hope you all enjoy the Thanksgiving break.
Junior High Boys Basketball today at 4:00, 5:00, & 6:00pm vs Mission. 6th grade first, followed by 7th and then 8th. See you there.

They say an apple never falls far from the tree, and we have Johnny and his good pals to thank for that. Come join us for a tale of Johnny Appleseed and get a tasty reminder that kindness is at the core of every friendship! When: November 20th @ 7:00 pm Where: HS gym @ Arlee Schools Cost: $5.00 for Adults, $3.00 for Students, $15.00 for a family (Tickets will be available at the door) Everyone Welcome!

Parent teacher Conferences will be November 8th through the 18th. Those dates are district wide. We established this two week window to keep student's, families, and staff as safe as possible. What do you need to do as a parent/guardian? Please invest in your child's future and reach out to their teachers and schedule a time to discuss how they are doing. Junior High Parents- We are piloting a program to sign up for Parent Teacher Conferences. The Junior High Staff is coming in on Friday, November 12th from 8am until noon to meet with parents. Please sign up to schedule your time to meet with them through the following link:
https://signup.com/go/JWZyVbP
Please be at least 5 mins early for your scheduled meeting to ensure you do not lose your conference time. Thanks. Remember, if you can not make it on Friday the 12th, staff will be available to conference with at various times from November 8th through the 18th.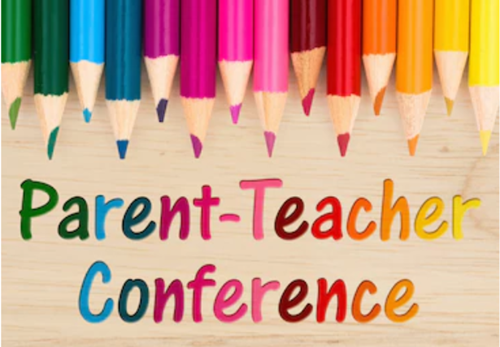 We received this from our Tribal Education Department at CSKT. Please help them in their ongoing efforts to support our students. Here is the link for the JOM Parent Survey. Please forward on to IEC members and anyone else you think that has JOM students in your schools. If you have not yet filled it out, please do so. This is only available until October 29th. At that time, we will get all of your parent surveys to each IEC for establishing top priorities for funding. Thank you!
http://cskteducation.org/en-us/?option=com_rsform&view=rsform&formId=15

A reminder that the Arlee Scarlets will be playing at Deer Lodge tomorrow night at 6pm for a spot in the district VB tournament. We would love to see lots of red in the stands.
Arlee High School is offering a FAFSA Night in the library on November 2nd, at 6 P.M. There will be representatives from both SKC and The University of Montana to help in the process. Dinner will be provided. Our goal will be completing the Free Application for Federal Student Aid online, working on any college applications, and answering all questions as your students look towards post secondary education. Please come join us as our students maneuver the college entry process. If there are any questions or concerns please reach out to Damon Cordier the HS/JH Counselor. (406)726-3216 Ext. 2302 Thanks