We are in need of another person to work chains at tonight's football game starting at 7:00. We are also in need of another person to work lines at tomorrows JH VB jamboree (9:00 AM) and and two people to work lines at tomorrows JV and Varsity games (3:00&4:30). If someone would like to take tickets at either of the volleyball events tomorrow (9/23) please be in attendance 20 minutes before the event starts. Thank you for your support!

Thursday September 14th will be an early out at 2:00 pm for students to allow for professional development for our staff, busses will run at 2:00 pm. Monday September 18th is a Tribal Professional Development Day for our staff so there will be no school for students on Monday.

The JV Football game against Mission scheduled for Monday, September 18th has been moved to 5:00 PM.

Start time for JV Football at Valley Christian has been bumped from 5:00-4:30.

Senior Athlete pictures will be this Wednesday, August 30th, at 4:00 in the high school gym.

Tomorrows JV football game against Valley Christian has been rescheduled. New date is Tuesday, September 5th in Missoula, at 5 pm.

Just a friendly reminder that there is school tomorrow, Friday, August 25th. Busses will run at regular times and it is a regular school day. It is our only Friday for students this school year.
Parents/Guardians- Just a follow up to our school calendar, we have school this Friday. It is our ONLY Friday all year long. Please plan on having your child attend their regular classes. School will end at 4pm as normal.

MS Football parent meeting will be 8/23 at 5:30 in Mr. Coleman's (junior high building) room after the conclusion of practice.

We are so excited to have students back on campus tomorrow. The first week is always interesting with our bus routes so we wanted to let you know that this year our goal is to have all students on campus by 7:30 am. The bus routes may be arriving at your stop 6-8 minutes earlier than last year and over the next week we will adjust accordingly. Thank you for your flexibility as we get the year started. Let's have an amazing year.
School starts this week. We will have open house from 3:30-4:30 tomorrow. Please plan on swinging down and saying hello! Students first day of school is this Wednesday. The school day goes from 7:50am and ends at 4:00pm. Also, we have school this Friday. It is our only scheduled Friday. Please see the calendar on the school website for future school closures and early outs.

A big thank you to the CSKT Tribal Education Department and all the volunteers that helped put on our Back to School night. It was incredibly hot out but it was very much appreciated and enjoyed by everyone that attended. Thank you so much.

Fall sports are around the corner. The parent and player meeting will be held on Wednesday, August 9th at 6pm in the new gym. Football will be starting with 2-a-days on Friday August 11th through Friday August 18th except for Sunday. Practices will be held from 7-9am and 6-8pm. Physicals and all paperwork must be turned in prior to the first practice.

It is hard to believe but we have less than one month to the start of fall sports. At this time we do not have a high school head or assistant volleyball coach. Please consider taking the opportunity to work with a great group of young athletes. An application is available online or can be picked up in the district office.
Junior High parents/guardians- Sadly we are moving the promotion ceremony inside due to the forecasted thunderstorms this evening. We look forward to seeing all of you in the old high school gym. We will be starting promptly at 7pm.
JH/HS parents and guardians, there will not be any tutoring after school this week.
Parents/Guardians: We will be having summer school from June 12th - July 13th. It will be from Monday through Thursday, 9-11. Please see the flyer for more details. All students were sent home with a copy of this newsletter today. Note: The newsletter they are bringing home has a type that indicates staying until 12:30. That is wrong, all students need to be picked up no later than 11:30. Thanks and sorry for any confusion.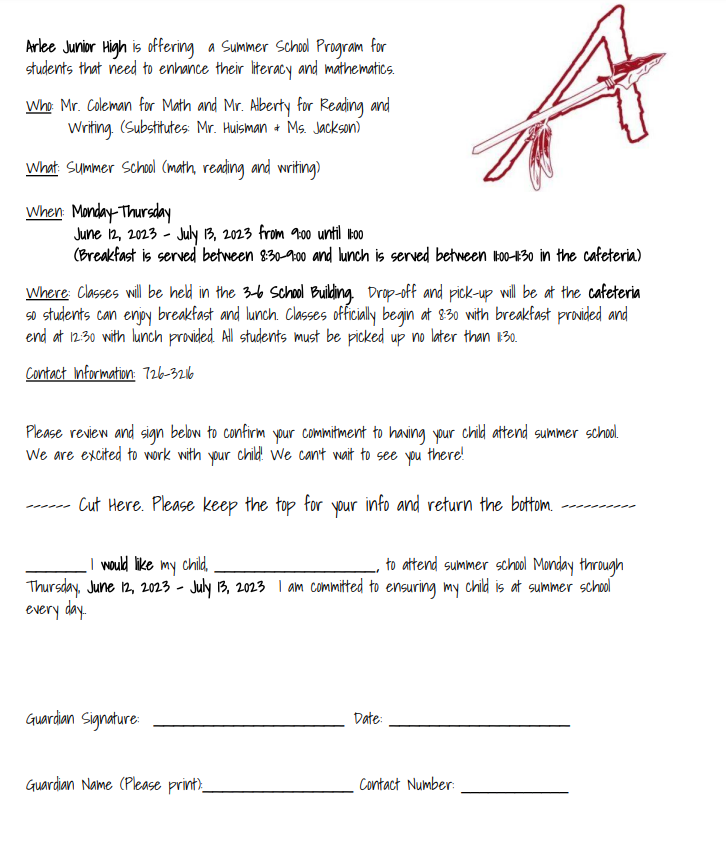 Graduation will start at 3 PM on the football field. We hope to see you all there.
Congrats to Rheid and Jerny Crawford who were both selected to the All State team for softball! We are so proud of you!
Join us tomorrow for breakfast and lunch.