As a reminder for tonight's VB game in Superior, masks are required for all visitors to the school.

Superior has canceled the JH volleyball tournament for tomorrow, Saturday September 18th.

In an effort to try to identify as many of our positive cases within the community, Tribal Health will be offering SYMPTOMATIC and close contact testing in the Arlee Community Center parking lot from 9 AM to 2 PM on the remaining September Thursdays 9/16, 9/23 and 9/30.

Due to a number of close contacts at the high school involving football players we are cancelling the varsity football game scheduled for tomorrow. We will also be cancelling the JV football game scheduled for Monday at Victor. At this time the JH football game for tomorrow in Arlee will still be played at 10am vs. Drummond.

The district is currently working on providing a link on our webpage that will keep the community up to date on our current COVID-19 cases within the district. We hope to have that available early next week. As an update for this week at the current time we have the following confirmed positive cases: Elem. Students-1 JH Students-4 HS Students-1 There are 4 resolved cases.

Public Service Announcement. Arlee Schools works closely with our Tribal Health Department and want to share that the Tribal Health mobile van will be in Arlee tomorrow for COVID testing. Tribal Health's mobile van will be at the Arlee Community Center parking lot on Friday, September 10, 2021 from 9 AM to 2 PM for COVID testing. We encourage members of our community to take advantage of this opportunity.

Due to a number of athletes being close contacts the volleyball game with Loyola scheduled for Thursday, September 9th has been moved to Tuesday, October 12th.

Due to a shortage of football officials we are moving our Friday, September 10th football game with Victor to Saturday, September 11th at 1:00pm. We will have a JH football game at 10:00am that morning so come enjoy a full day of Warrior football.
Please be sure to use the new bus drop off and pick up locations when getting your kids to and from school. See the attached image. Please do not drop your student off in the student parking area and be sure to follow the arrows to keep traffic moving in the appropriate direction.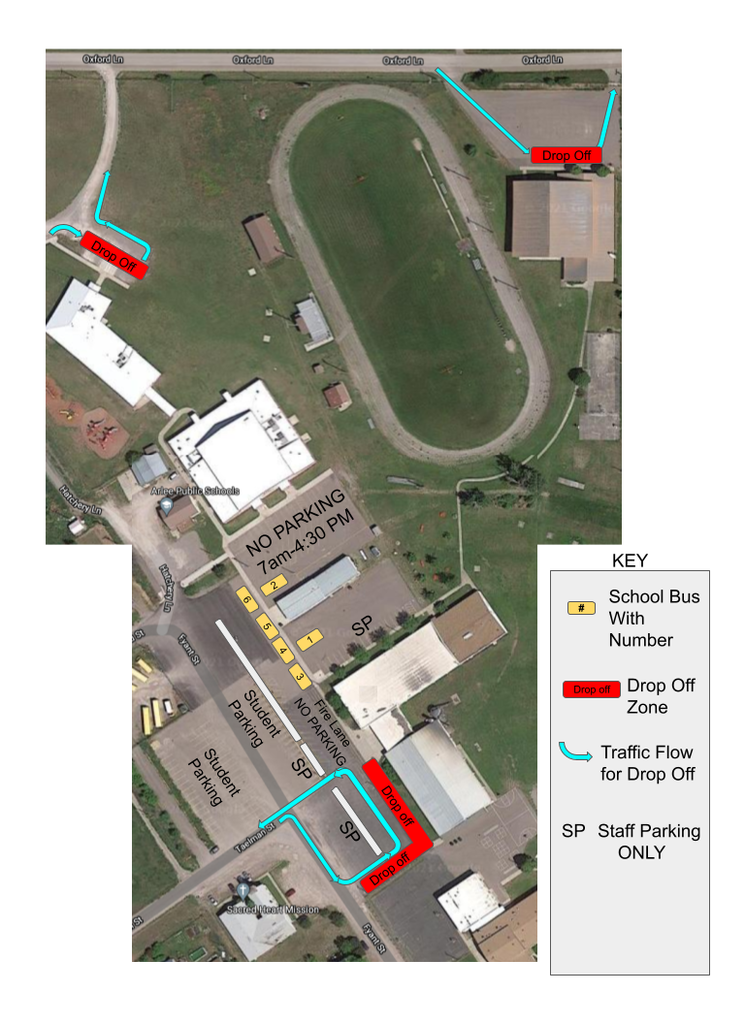 We are so excited to welcome our students back with school starting on Monday at 8:00am. Please take note of our new times this year with school going from 8:00am to 4:05pm. The district is recommending masks at any time that physical distancing is not possible. We would appreciate if you would send each student with a mask so they have it available. Masks are to be worn on the school bus as part of a federal mandate. We will have masks available on the busses and at school. We will continue with our procedures as were implemented last year in regards to all other areas of our COVID-19 plan. We do have an online option available this year through a company called Edgenuity. If you are interested in signing up for that program please give us a call next week and we will work on getting your student enrolled in the program. We understand your concerns during this pandemic and hope that we can all work cooperatively in order to provide the best education for each student. See you all on Monday.
JH Football practice will begin on Monday August 23rd. Practice will start after school with players needing to be ready to go by 4:20p.m. Practice will end at 5:45p.m. There will be a parent meeting on Thursday, August 26th at 5:30pm. Go Warriors!

High School Computer Checkout starting at 3:30 pm on Thurs., Aug. 19. $20 to lease laptop for Freshmen only. The rest will be free. A parent has to sign off on the laptop lease agreement, so please come in with a parent. Location of checkout...High School Conference Room.
Come work at Arlee School District!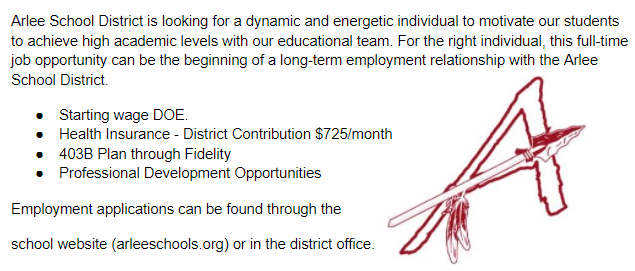 Free School Supplies. See flyer image for further details.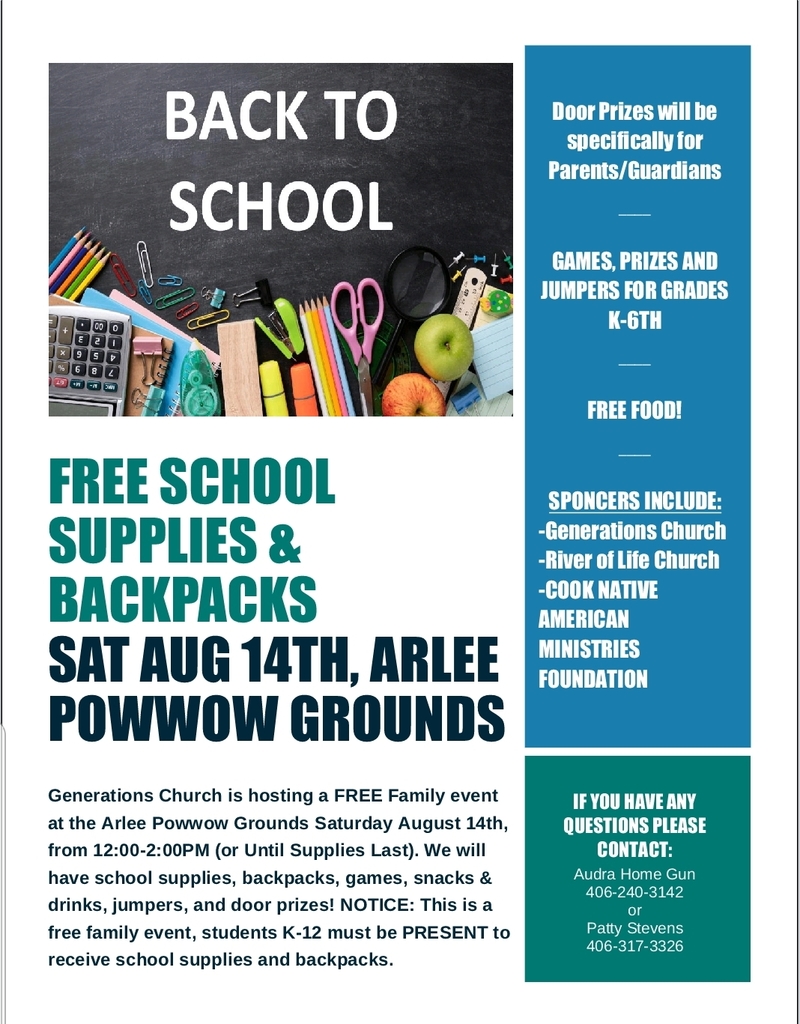 Arlee High School fall sports will begin this Friday, August 13th. You will need to have a physical prior to the first practice. Football will begin with practices at 7:00am-9:30am and again from 6-8:30pm. Volleyball will begin with practice from 1:00pm to 3:00pm. Cross country practice will begin at 4:45pm. We look forward to seeing you all on Friday.

The Arlee school board will be meeting Monday night at 6:30 to discuss the choosing of an architectural firm for two possible building projects. The district is looking to build a performing arts building to house our art and music programs. The district is also looking at building a new building for our grades 3-6. The board would like to hear from the community regarding both future building projects. We look forward to hearing your thoughts and ideas on improving our campus for your students.

We would like to welcome all girls in grades 9-12 interested in playing basketball for the Arlee Scarlets next year to come for a meet and greet with the new coaching staff on Monday, July 12th at 6:00pm in the new gym. Parents are welcome and there will be a practice afterwards for the girls.

Arlee Warrior Football Camp will be held Tuesday June 22nd to Thursday June 24th. Camp will be from 6pm to 8pm each evening. A t-shirt will be provided. Cost is $20 per athlete. The camp is for students in grades 6-12. Come join us for a fun time while learning and improving your skills.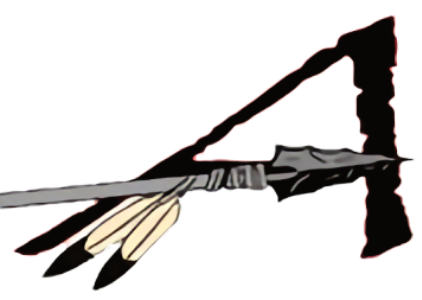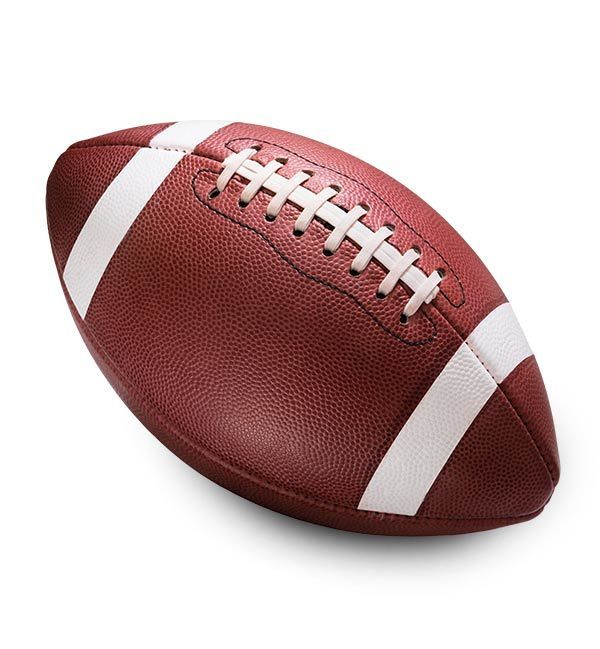 8th Graders: All school items must be returned & checked in, all fees paid & lockers cleaned before you are allowed to walk. 8th graders promotion rehearsal @ 10:00 am - released from school at noon w/parent/guardian permission. Parents/guardians & students need to be at the football field at 4 pm to decorate for promotion. Be here at 6:40 pm, 8th grade Promotion at 7:00 pm on the Football Field.

Arlee High School graduation ceremonies will be live broadcast on the NFHS network.