Tomorrow's games v. Ronan will start at noon. We will start with C Squad Boys, followed by JV Boys - 1:30, JV Girls - 3:00, V Boys - 4:30, V Girls - 6:00. We do our best to stay on time, but please be there early in case we are running ahead of schedule.
Tonight's games in Florence are as follows: JV Boys - 3pm, JV Girls AND C Squad Boys - 4:30 (different gyms), V Boys - 6:00, V Girls - 7:30.
We are running about about twenty minutes ahead of schedule tonight! Hurry down if you plan on coming to the boys Varsity game!
The junior high girl's basketball jamboree in Hot Springs has been canceled tomorrow, it will not be rescheduled. Stay safe and warm this weekend!
Tonight's games against Deer Lodge have been postponed with the incoming weather and worsening road conditions. The previous post this morning with the game schedule was a pre-schedule post, sorry for any confusion.
Today's basketball schedule vs. Anaconda: C Squad Boys - 1:30 JV Girls - 3:00 JV Boys - 4:30 V Girls - 6:00 V Boys - 7:30 The Junior High girls play in Mission at 4:00 and 5:15.
Congratulations to the Arlee Talent Show winners!!! 1st Place: Hyrum Osberg- Drums performance. 2nd Place: Alysen Garwood -Dance performance. 3rd Place: Eneas "Jep" Inmee -Traditional dance performance. Thanks to all of those willing to showcase their abilities and also a BIG shoutout to Mrs. Caldwell for putting it on!
Game times have changed for tonight's games in Deer Lodge. Varsity Girls play at 6pm and Varsity Boys play at 7:30pm. Thanks for understanding.
Finals Schedule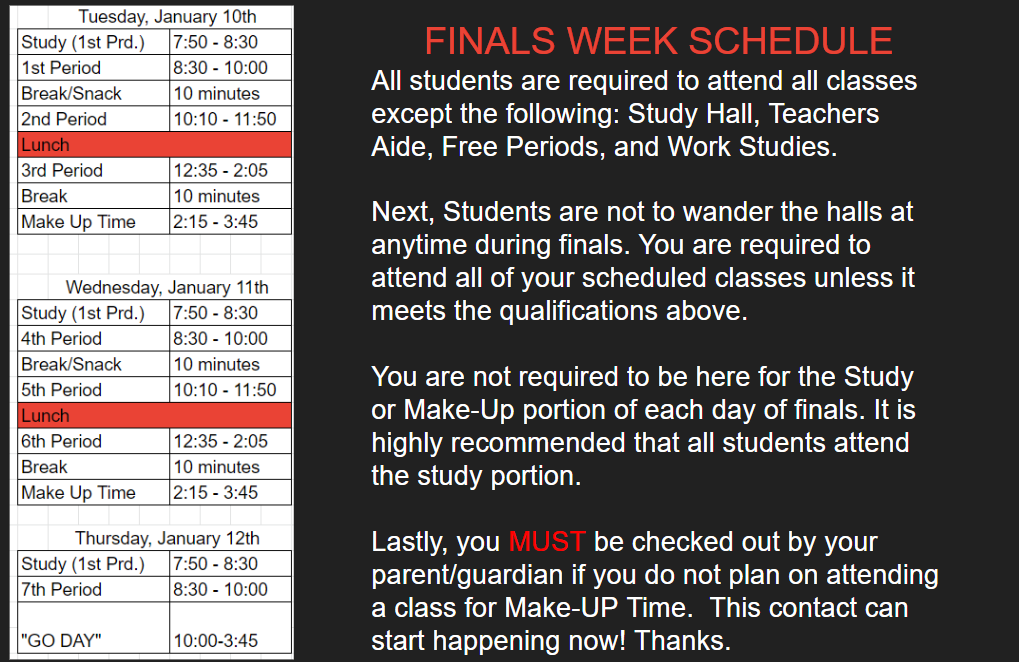 It is FINALS week at the High School. Please refer to the bell schedule located in the student handbook for your students schedule this week. It can be found on the school website under High School Documents. Also, this Thursday will be a GO day for both the JH and HS. It is slightly modified at the High School due to them having a 7th period final that day. If you have any questions, please reach out to Val or Mr. Beckham at the High School. Thanks.
Starting Monday, January 16th, JH students are not permitted to bring a cell phone to class. They can keep them in their locker or leave them at home. If a student chooses to bring a phone, they are permitted for use only before/after school or during lunch. (This includes earbuds and headphones.)
Happy Wednesday! Here is the updated basektball schedule for this week. We hope to see you there to cheer on our Warriors and Scarlets! Thursday in Mission: JV Boys 4 V Girls 5:30 V Boys 7:00 Friday at home v. Florence: JV Boys 4:30 V Girls 6 V Boys 7:30 Let's also wish our wrestlers good luck in Choteau and Cut Bank this weekend! We hosted an excellent mixer last night, I couldn't be prouder of how our wrestlers represented Arlee Schools.
Junior High Girls Basketball starts tomorrow! Practice is in the junior high, 4:15-5:45. Parent meeting Tuesday at 5:30 at the end of practice. Please have physicals and paperwork turned in to Wendy or Jamie before practice.
Tomorrow's wrestling meet in Bigfork has been cancelled due to weather.

Arlee Schools will be in session today. The emergency travel only warning for Lake County is due to the conditions north of Pablo. Our busses are currently running and school will be open for normal hours.
We have to cancel JV girls basketball games this weekend, we have too many ladies out sick to field a team. Friday schedule will be as follows: 3pm boys c squad, 4:30 JV boys, 6:00 V girls, 7:30 V boys. Saturday schedule in Charlo is the same. Thank you for understanding!
Hello everyone! Our athletic schedules for the weekend are as follows: Friday: Home vs. Loyola - C Squad Boys 1:30, JV Girls 3:00, JV Boys 4:30, V Girls 6:00, V Boys 7:30. Saturday: At Charlo - JV Boys and Girls 3:00 (two gyms), V Girls to follow, V Boys. Wrestling will be in Eureka at the Buzz Lucy meet.
Hello everyone- Due to some unforeseen circumstances, we will be postponing the talent show scheduled for Monday, December 19th. Sorry for any inconvenience this may have caused. We will reschedule and get those talented kids back on stage as soon as possible. Please be on the lookout for an update after winter break.

If you're on Facebook, we hope that means you've already been to the ballot box. Thank you for voting! Wait, you haven't? There's no time to waste—Arlee Schools needs your help now! Vote on the Impact Aid Revenue and General Obligation Bonds today. Help us claim $3 million in federal funding at no cost to landowners. Plus, support our community and its kids by raising the remaining $6 million we need for this important project. If you want some reading material while you wait in line, arleeschools.org has you covered. Learn about the bonds on this year's ballot and see how the money will be used to improve our school for students and locals alike.

The district is currently experiencing a power outage. Students are fine and the day is progressing normally. If the power is not restored by 12:00 we will run busses and dismiss students at that time. We will try and keep you updated as we learn anything new.